5/16/23
It's our annual "Spring into Action" raffle! We would love to have our community participate as well. You can print the tickets and drop in our mailslot, or Venmo money and we can fill the tickets out for you (include your phone number. By purchasing a ticket for a modest sum of $5, you have the chance to win gift cards worth $25 and $50 in alternating weeks (we will have TWO drawings this Sunday as we extended the time to get in raffle tickets, so we did not draw last Sunday). For every five tickets you purchase, we graciously offer you an additional ticket free of charge, multiplying your opportunities to seize the rewards! You need not be present to win! Graphics are below and direct links to bigger a PDF is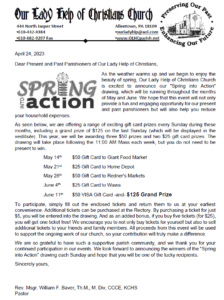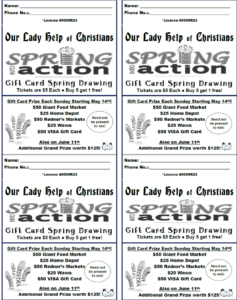 here.

4/1/23
Holy Week is an eight-day period during which we can reflect on the shift in
humanity that Jesus' sacrifice on the cross initiated. It all starts on Palm Sunday, when Jesus enters Jerusalem. The week leads us through the Last Supper, continues with His crucifixion, and concludes on Easter Sunday with His resurrection. This is the foundation of Christianity; His sacrifice inaugurated the New Covenant that God had promised and that many had prophesied about throughout the Old Testament. Each day of Holy Week provides us with a close-up look into the heart of our Savior. Every significant step toward the cross, every breath up to the last, and His resurrection all reflect His love for us.
Here
is a link to our schedule, along with our twinned Parish, Saints Simon and Jude, for the coming week.
3/23/2023

Stations of the Cross will occur at Our Lady Help of Christians Church on Friday, March 24th at 6:00 P.M. "The Way of the Cross. All You Drink of This" will be the version used that evening, which is an adaptation of an old Latin version of the way of the Cross.
3/1/2023
Lent is a 40-day season of prayer, fasting, and almsgiving that begins on
Ash Wednesday and ends at sundown on Holy Thursday. Our Lenten season schedule is here. 
2/6/2023
Ash Wednesday is important because it marks the start of the Lenten period
leading up to Easter, when Jesus was resurrected. The ashes symbolize both death and repentance. During this period, we show repentance and mourning for our sins, because we believe Christ died for them. Our Ash Wednesday services at both Our Lady Help of Christians and Saints Simon and Jude. 
1/26/23
We are having a Superbowl hoagie sale! Only $5.50 for a 9-inch hoagie from Galyean's Deli in Northampton. The order form is HERE!!!
You can drop off payment through our mail slot at our Rectory on Jasper Street. You will pick up in the vestibule of our Church Super Bowl Sunday, between 10-11AM and at 12Noon after Mass. GO EAGLES!!
Oh, and you don't have to go to Church to order these hoagies! They will be available for pickup in our vestibule, just enter through the front doors. 
1/11/23
Please support our Church by buying a Winter Warmup ticket! One $10 ticket gives 28 chances to win! You don't even need to see us to participate!
Drop off money in our Rectory mailslot, our secretary will mail you your tickets, fill out and drop them off in the mail slot again! Thank you for your support!
1/3/2023

From Bishop Schlert. Our parishioners are encouraged to attend.
My Dear Brother Priests, Deacons, and Seminarians,
As we mourn the death of Pope Emeritus Benedict XVI, I am pleased to share with you official diocesan arrangements for our local Church's Days of Prayer and Supplication for the soul of Pope Emeritus Benedict XVI.
Solemn Vespers with the Office of the Dead
Wednesday, 4 January 2023
6:30 p.m.
Cathedral of Saint Catharine of Siena Parish
1825 West Turner Street
Allentown, Pennsylvania 18104
Mass for the Dead (Missa pro defunctis): Deceased Pope
Thursday, 5 January 2023
12:15 p.m.
Cathedral of Saint Catharine of Siena Parish
1825 West Turner Street
Allentown, Pennsylvania 18104
I encourage you and the faithful of your Parish to join me at the Cathedral in praying for this humble, effective shepherd who dedicated his life completely to the Gospel of Christ.
May his soul and the souls of all the faithful departed, through the mercy of God, rest in peace. Amen.
Fraternally yours in Christ,
Most Reverend Alfred A. Schlert
12/28/2022
Let us then, at the start of the New Year, place ourselves under
the protection of this woman, the Mother of God, who is also our mother. May she assist us in keeping and pondering all things, fearless of trials and with the joyful certainty that the Lord is faithful and can turn every cross into a resurrection. Let us also invoke her today, as the People of God did at Ephesus. Let us stand and, like the people of God in Ephesus, repeat three times her title as Mother of God: "Holy Mother of God, Holy Mother of God, Holy Mother of God!" Amen.
Vigil Mass – 6pm on the 31st at Saints Simon and Jude, Bethlehem
New Year's Day – 9AM at Saints Simon and  Jude,
11AM at Our Lady Help of Christians
12/20/2022

Our Christmas Schedule. Hope to see you at one of our Masses. May you have the gift of faith, the blessing of hope, and the peace of His love at Christmas and always. May God fill your life with love, joy, and peace this Christmas and throughout the New Year. Sharing with you the Glory, the Wonder, the Miracle of this Holy Season. Have a Blessed Christmas and New Year.
12/5/22
We have Mass for the Immaculate Conception, which is a Holy Day of
Obligation, this Thursday at 9AM. Our celebrant for this Mass is Monsignor John Martin. Saints Simon and  Jude, our sister parish, have a vigil Mass at 6PM on Wednesday the 7th, and a 12:05PM Mass on the 8th. Hope to see you at one of our Masses.

10/12/22
CLICK ME – OUR NIGHT AT THE RACES IS BACK! 
Please click link above for more details. 
Our event is Saturday Night, November 5th, starting at 5:30pm. Food starts being served at 5:45PM. We have "real" horses for you to cheer on, not a tv. We will have homemade food including cabbage & noodles, beef barbeque, meatball sandwiches, beef orzo soup and salad. Beverages, beer and wine are served. Bring a bunch of friends and have fun! Tickets are $25 for admission, $15 if you just want to buy a horse. Hope to see you there! Plenty of free parking in our lot! Tickets must be bought in advance. For more information, email ourladyhlp@aol.com or call 610-432-9384.  Hope to see you there!
8/24/22
Here is our Tricky Tray Flyer! We have some good homemade food available for
purchase!  For better clarity it is also on our Facebook Page.
8/8/22
Our Tricky Tray event is coming up on September 10th and 11th! This will be an indoor/outdoor affair with baskets, cash prizes and homemade food! Right now, we are looking for
donations to use to make baskets up. Please send via U.S. Mail to 444 North Jasper Street, Allentown, PA or drop in our gold mail slot at our Rectory! Thank you!
7/25/22
Summer Sizzler is here again! Please email the Rectory at
ourladyhlp@aol.com if you would like to purchase a raffle ticket for the month of September. You have 30 chances to win per ticket! Tickets are $10 each, buy 4 get 1 free, buy 7 get 2 free!
6/23/22
We hope everyone has been having a great summer. On June 12th, we celebrated our 95th Anniversary!
HAPPY 95TH ANNIVERSARY OLHC – JUNE 16, 1927 – JUNE 16, 2022
On June 16, 1927, Father Joseph Mathis was selected by Cardinal Dougherty to erect a Church in the Rittersville section of East Allentown and serve as a chaplain for Catholic patients at what was known as the S
tate Sanatorium for Mental Illnesses. Within the first year of his appointment, Father Mathis had visited 128 families or 431 Catholics who became members of the new-found Church.
St. Coleman's Church in Ardmore donated our Blessed Mother statue and our St. Joseph statue. Mr. & Mrs. William McGroarty donated the main crucifix which sits over our altar. Dr. Edgar Blew donated our sanctuary lamp and our Blessed Mother statue which currently sits at the corner of Hanover Avenue. He presented the statue with this thought: "They won't come into Mary; we will bring Mary out to them."
May the joy of the Lord never be absent in
this Church, now and forever. Amen.
Here is to another 95 years in the East Side of Allentown!
5/25/2022
Ascension Thursday is a holyday of obligation. We will have Mass here at 9AM
tomorrow morning! If you have to work, our sister parish, Saints Simon and Jude  will have Mass at 6PM on Wednesday 5/25 at 6PM, and if you want to come on your lunch hour, at 12:05PM on Thursday. Hope to see you there! All are welcome!
4/13/22
We have a fun fundraiser going on for the month of May! It's called "Spring Into Action." More details can be seen via our Facebook post here, where
you can also print out tickets.
Every Sunday, you have the opportunity to win one of the following gift cards (yes, each Sunday!!):
$25 Gift Card to Rudy's Gas Station (Fill your gas tank)
$25 Gift Card to Giant (Fill your refrigerator or your gas tank)
$25 Gift Card to Dan Schantz (Fill your garden with flowers)
$25 Gift Card to Wawa (Fill your gas tank or your tummy)
$25 Gift Card to Amazon (Fill your various shopping needs)
Tickets are $5 each — buy 4 and get 1 free. You can print the tickets that are shown here. If you win, your name goes back into the basket for another chance!

YOU DO NOT NEED TO PRESENT – WE WILL CALL YOU IF YOU WIN!
Finally, on May 29th, you can "spring" into "summer" with our additional grand prize – Memorial Day gift set, worth $150 (see graphic for all the prizes). We also have Venmo at @OlhcAllentown-Church, digits 7439 if it is your first time using Venmo to pay us.
4/4/22
Holy Week is an important time for Christians throughout the world. Holy Week, the final week of Lent, begins on Palm Sunday, the Sunday before Easter. Holy Week is a time when Catholics gather to remember and participate in the Passion of Jesus Christ. The Passion was the final period of Christ's life in Jerusalem. It spans from when He arrived in Jerusalem to when He was crucified.
Four special ceremonies commemorate the events of Christ's Passion from His entrance into Jerusalem, when palm branches were placed in His path, through His arrest on Holy Thursday and Crucifixion on Good Friday, to Holy Saturday, the day that Christ's body lay in the tomb.
The summit of the Liturgical Year is the Easter Triduum—from the evening of Holy Thursday to the evening of Easter Sunday. Though chronologically three days, they are liturgically one day unfolding for us the unity of Christ's Paschal Mystery.
The single celebration of the Triduum marks the end of the Lenten season, and leads to the Mass of the Resurrection of the Lord at the Easter Vigil.
The liturgical services that take place during the Triduum are:
Mass of the Lord's Supper
Good Friday of the Lord's Passion
Easter Vigil
Mass of the Resurrection of the Lord
Hope to see you at one of our Masses. Our schedule is also on our Facebook page HERE
3/21/22
A Consecration of Russia and Ukraine to the Immaculate Heart of Mary will take place at Our Lady Help of Christians on Friday, 25 March 2022, the Solemnity of the Annunciation, at 12Noon. Please see Bishop Schlert's letter which is on our Facebook page. Hope to see you there.
2/22/22
STATIONS OF THE CROSS – FRIDAYS AT 6PM
(ALTERNATING PARISHES)

March 4th – Saints Simon & Jude – "With Pope John Paul II"

March 11th – Our Lady Help of Christians

March 18th – Saints Simon & Jude
March 25th – Our Lady Help of Christians
April 1st – Our Lady Help of Christians

April 8th – Saints Simon & Jude
2/3/22
Ash Wednesday marks the start of the Lenten period. Lent is a time when we are called to embrace the three great disciplines of the Church in a new and fresh
way:
Prayer – mycatholic.life/lent-prayers-reflections is a good resource; you can also say the Rosary an hour a day;
Fasting – donate the cost of those meals to the CRS Rice Bowl; and
Almsgiving – donating money or goods to the poor and other acts of charity.
As we think and pray about how the Holy Spirit is leading us to embrace these disciplines, we need to remember that we are not just following a set of rules for no reason. Our extra prayer, our fasting, and our giving to the poor are supposed to be drawing us closer to Jesus. The whole purpose of the Lenten journey is to draw close to Jesus and to become more like Him. Fasting helps us empty ourselves, and think of God and others. In return, it makes Easter more joyful. It also helps us develop self-discipline. Please see the attached graphic for our Ash Wednesday services on March 2nd (at both parishes).
1/10/22
Happy New Year! Our Winter Warmup fundraiser done! We will keep you updated if you win!
You have 28
chances to win with every $10 ticket. Buy 4 tickets, get one free! That's 140 chances! OLHC would appreciate the support from our friends, neighbors and parishioners. You can buy tickets up until January 31st. Stop by the Rectory or email us at ourladyhlp@aol.com.
We now take Venmo! Our address is @ Olhcallentown-Church. The four digits to input is 7439 if it's your first payment. Please consider using Venmo, just provide your phone number and address, and we will mail the tickets out to you. Thank you for your support!
12/27/21
Hope everyone had a wonderful and blessed Christmas. The graphic shows our
Solemnity of Mary (New Year's) Mass schedule. The vigil Mass is at Saints Simon and Jude this year. There will be no Saturday evening Mass on January 1st.
"It becomes you to be mindful of us, as you stand near Him Who granted you all graces, for you are the Mother of God and our Queen. Help us for the sake of the King, the Lord God Master Who was born of you. For this reason you are called 'full of Grace'…"
12/7/21

Our Christmas Schedule is listed in the graphic. We will also have a penance service next Tuesday. Hope to see you there!
"O sweet Child of Bethlehem, grant that we may share with all our hearts in this profound mystery of Christmas. Put into the hearts of men and women this peace for which they sometimes seek so desperately and which you alone can give to them. Help them to know one another better, and to live as brothers and sisters, children of the same Father. Reveal to them also your beauty, holiness and purity. Awaken in their hearts love and gratitude for your infinite goodness. Join them all together in your love. And give us your heavenly peace. Amen." –Pope John XXIII
11/2/21
Our Drive-Thru Pie and Dumpling Sale is here! Click here –> FALL 2021 PIE SALE FLYER to download our form. Order forms are due by November 14th and you will pick up Tuesday, November 23rd. Just drive down East Clair Street to the Rectory back door and we will hand you your pies (and/or dumplings!). We have had great feedback about these pies.
10/4/21
AMERICA NEEDS FATIMA!
We have a Rosary Rally on Saturday, October 16th, at the front of the Church, led by Deacon Jeffrey R. Trexler, KCHS, Ph.D, Ch.D. The flyer explains everything we will be doing. Please join us as we pray the Rosary for our families, our country, and our world. This Rosary Rally, sponsored by America Needs Fatima, will be one of over 20,000 rallies that will take place all across the United States on this day.  All are welcome! Bring a chair if needed, we will hand out the materials. CLICK HERE FOR MORE DETAILS ON OUR RALLY!
10/3/21
WINNER WINNER CHICKEN DINNER!

Our popular Chicken Dinner is back! Pickup will be Wednesday, October 27th from 4PM to 6PM. $13 includes 1/2 chicken (Fairview Catering), Baked Potato, Seasoned Corn, Roll/Butter, Cole Slaw and Desert. Orders are taken until October 17th. You can drop off your order in our mail slot. Pickup will be in our parking lot.  CLICK HERE FOR THE ORDER FORM!
8/19/21

Our clothing drive is here – September 6 to September 27, 2021! We will be collecting clothes, shoes (must be packed separately), blankets, sheets, pockets/backpacks, scarves, bikes, baby seats with attached base, small toys. CLICK HERE TO SEE WHAT WE TAKE
Drop off at our back porch on East Clair Street.
Must be packed in bags. Tell your friends and neighbors!
7/22/21
Our Summer Sizzler has been happening the month of July! For $10, you get 31
chances to win! Buy 4 tickets get one free, buy 7 tickets get two free! Stop by the Rectory Monday – Wednesday 9:30am to 4pm to get a ticket in the next 9 days! We will also be selling them after our 8/1 Mass. Numbers are based on the daily number for the month of August. Checks will be mailed the month of September. Good luck! And thanks for supporting our parish!
6/24/21
It has been a long and difficult road for all of us. But now that the restrictions have (mostly) been lifted we are able to gather under one roof and worship the Lord together! Enjoy this video. All restrictions have been lifted, and holy water is back!
6/14/21
Effective June 15th, Rev. Msgr. William F. Baver, Pastor of SS Simon and Jude, Bethlehem, will now be pastor of both Saints Simon and Jude as well as Our Lady Help of Christians. Consequently, our Mass schedule will be altered and some Masses need to be eliminated. Mass times are as follows:
DAILY 8AM MASS
Monday – OLHC
Tuesday – SS Simon & Jude
Wednesday – OLHC
Thursday – SS Simon & Jude
Friday – TBD (may be Saturday – call SSJ at 610-866-5587 x 7 to confirm if it is either Friday or Saturday morning at 8AM.
SUNDAY MASS
5PM (SAT) – SS Simon & Jude
9AM – SS Simon & Jude
11AM – OLHC
CONFESSION
Saturdays 4PM to 4:45PM – SS Simon & Jude
Should you attend Mass at SS Simon & Jude, your offering envelope will be credited to our parish. We understand change is never easy, but in order to grow both parishes, change is necessary. Both Father Rich and Monsignor Baver pray that you will continue to be supportive of Our Lady of Christians, in both your weekly attendance at Mass and in all fundraising that is done in the future.
6/3/21
Father Rich will be heading to St. Francis of Assisi effective June 15th. Even though he was only here nine months, we appreciated his dedication and
commitment to our Parish community. He (and his homilies) will be missed here at OLHC. Best wishes Father Rich, and God bless!
5/26/21
Tricky Trays are here again!
TRICKY TRAYS UNDER THE TENTS – Come peruse our trays on June 12th from 11AM to 5PM and June 13th 10AM to 2PM. Event will be outside (weather
permitting). We have a large parking lot so park and peruse. We will have hot dogs, soft pretzels and cookies as well as salty snacks and drinks. Covid safety measures in effect (our staff will wear masks and gloves). Please wear a mask if you are not vaccinating, or you can social distance. All our prizes are amazing – nothing valued less than $100, including cash prizes.
1 ticket = $1

6 tickets = $5

12 tickets = $10

25 tickets = $20
Check out our Facebook Event here
4/11/21
Bishop Schlert has declared the "Year of the Real Presence" for
the Diocese of Allentown to begin on Divine Mercy Sunday, April 11, 2021 and conclude on the Solemnity of Corpus Christi, June 19, 2022. To learn more about the Year of the Real Presence & to read the Decree please click here
3/16/21
Our Holy Week Schedule. Reservations are required at our Easter Masses (vigil and day). The form is available
3/28 – PALM SUNDAY – Regular Masses at 9AM and 11AM. Palms will be distributed.
4/1 – HOLY THURSDAY – 7PM Mass of the Last Supper. 8PM to 9PM will be Adoration. No morning Mass that day.
4/2 – GOOD FRIDAY – 12PM Stations of the Cross. 3PM Liturgy of the Passion of the Lord. No morning Mass that day.
4/3 – HOLY SATURDAY – 12PM Blessing of the Food (outside). 8PM Vigil Mass (reservations required).
4/4 – EASTER SUNDAY – Masses at 7:30AM, 9AM, 10:30AM, 12PM (reservations required).
3/10/21
Confession starts Sunday 3/14. There are 3 pillars of Lenten observance:
prayer, fasting, and almsgiving. For this reason, during the time of Lent, there will be confessions several times throughout the month:
Sundays:  March 14, 21, 28
12PM to 1PM
Tuesdays: March 16, 23, 30
6PM to 7PM
Fridays: March 19 and 26
5PM to 6PM
Saturdays: March 20 and 27
9AM to 10AM
The Sacrament of Reconciliation (Confession) is an expression of the mercy and love God has for us through the power of the Holy Spirit. We experience the healing and forgiveness of God. Reconciliation during the season of Lent can renew our relationship with God and with our neighbor and our human dignity.
Our Easter Pie Sale has started! Download the form HERE.
The pie sale in October proved to be very popular. People loved the pies and asked for it again! THE DEADLINE IS MARCH 21ST. Pies are 8 inches and $8 each (as well as Apple Dumplings for $4). Pickup is drive-thru style and will be on Thursday, April 1st (Holy Thursday) from 12PM to 6PM. You will drive down St. Clair Street and pick up at the Rectory door.
Just email us (ourladyhlp@aol.com), Venmo us (@ olhcallentown-church, last 4 digits 1870), send the form via U.S. Mail, call us (Monday to Wednesday) we will take orders any number of ways! Thank you for your help in supporting Our Lady  Help of Christians!